ANN ARBOR SCHOOLS: The importance of parent involvement: NAAPID 2012 at Slauson Middle School (with slideshow)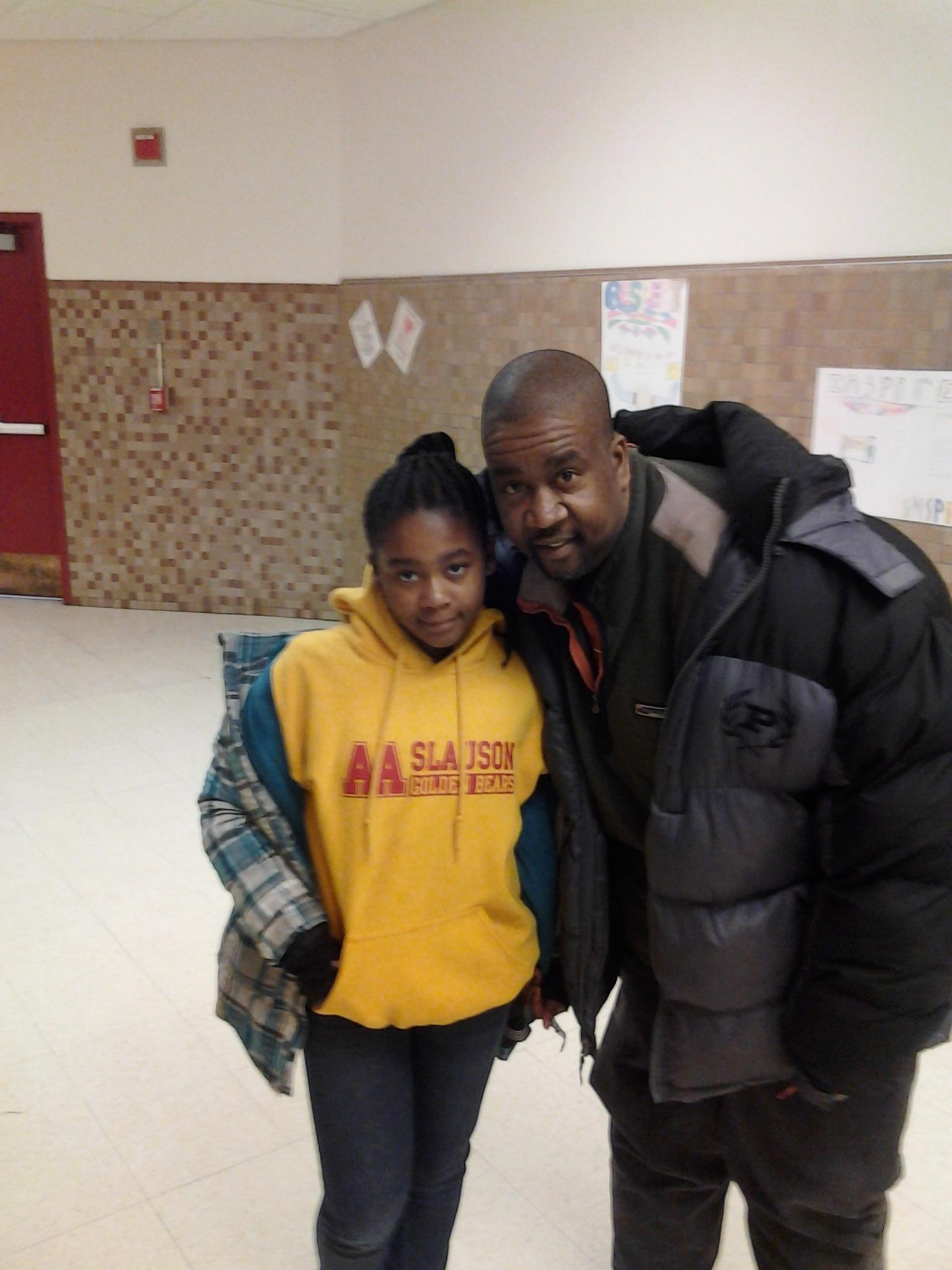 By Leslie McGraw, A2 Journal, Heritage News, Feb. 16, 2012
[email protected]
Twitter: @LesGo4It
Slauson Middle School in Ann Arbor was one of several schools in the district that provided a special celebration in honor of National African American Parent Involvement Day (NAAPID) on Monday, Feb. 13.
Slauson's demographics are closest to those of the overall district, with 14.2% of its students identified as African-American, compared to the district average of 14.3%.
Principal Christopher Curtis describes NAAPID as 'a birthday' where parents who take care and are involved in their child's academic success every day come out to celebrate as a group.
On Monday the school celebrated NAAPID with the traditional parent accompaniment to their child's class, along with breakfast, lunch, and several presentations throughout the day, including Jazzistry with Vincent York.
I make it my business to be here every year, said Tiffany Burroughs, mother of 6th grader Tiasia Burroughs-Lee. Burroughs, who attended with her mother, Kathy Burroughs, also came up through Ann Arbor Public Schools and recognizes the importance of parent involvement. I think NAAPID is every day because I am involved every day, says Burroughs, not necessarily because of the color but I just look at it as a parent being involved.
People need to come out and really see what the children are doing in school, said Peggy Connors during Monday's NAAPID program at Slauson. Connors represented the parental structure for her granddaughters who are currently attending Slauson, 8th grader Diamond Williams and 6th grader DaShayla Williams. Connors has worked in the school system for 20 years and is a noon-hour supervisor and media center clerk for Slauson. Connors has also had 6 kids and 7 grandchildren in Ann Arbor Public Schools.
Other schools that put on a special program included Pioneer High School, which gave a black history presentation and Ann Arbor Technological High School, which had a presentation by NAAPID founder and Clemente High School founder and former principal Joe Dulin.
Dr. Arthur Williams, principal of Huron High School, told the A2 Journal that Huron did not do a lot of advertising for NAAPID this year.
Parent involvement is not a particular problem for our students,â said Williams. We keep in contact with our students daily.
For 11-year-old Corshay Webster, NAAPID Day is just another Mommy Day or, as it was this year, Daddy Day. Corshay (pictured), who attended Slauson's NAAPID performances with her father, Fred Webster, is a violinist and scholar.
To what does she attribute her success?
Webster: I get good grades because I pay attention in class.