YPSILANTI: Bikers gather at Corner Brewery for annual ride
Ypsilanti Courier
news
Thursday, November 14, 2013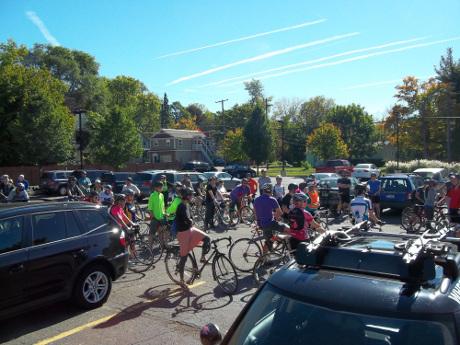 By Leslie McGraw
For Heritage Media
More than 100 bicyclists of all abilities gathered at the Corner Brewery Oct. 13 for the 7th Annual Bike Ypsi fall ride.
Bicyclists had the choice between three courses. The main course, which was also the shortest route, was 18 miles on paved road. Most of the bike riders chose this route, but there were two groups that broke away from the pack, choosing either the 20-mile dirt road course or the 30-mile course on paved road.
Volunteers in purple shirts were ready to help in the event people could not complete the entire course, interspersing themselves throughout the main group to guide and answer questions, and lead a biker back to the headquarters if need be.
The bike ride guides, on-site repairs and tune-ups, tips and safety precautions, or what regular Bike Ypsi participants refer to as "the spiel," have become as expected to participants as the bike rides themselves.
Bike Ypsi is completely volunteer run and all events are open and free to the public. Initially, the group banded together after the city of Ypsilanti passed an ordinance making it illegal to bike on the sidewalk in downtown Ypsilanti, as well as other areas around town.
"Although we believe in street biking, we didn't want people out there trying to ride in the street without education about safety…" said Kristen Cuhran, one of the core volunteers with Bike Ypsi.
Some bicyclists that came out on Sunday, like Ron Torrella of Ann Arbor, were serious athletes who have competed before. Torrella who has been bicycling long distance since high school, began biking hundreds of miles about 25 years ago.
"I am recovering from a double ACL replacement in 2011," said Torrella. "This is my first time coming to one of these events…but I ride [from Ann Arbor] to Dexter or Chelsea on a Sunday morning to sit down and eat brunch."
Most of the participants, however, were there on a more casual note. There were even a few young people that were hardly old enough to walk camped out in the back-seat carrier of their parent's bicycle. Cuhran's daughter, Willa, was one of these young participants.
"She slept through most of the ride," said Cuhran.
Julie Lucas, who found out about Sunday's bike ride on Facebook, began biking in the summer with her friend.
"I saw it was a free, organized ride."
Megan Laurer, who rode with the main group, wore a pink skirt for the occasion. "I believe most things can be done in a skirt," said Laurer.
What started out as a fall bike ride, now includes Sunday bike rides, themed bike tours such as the Taco Tour or experimental "Espresso Tour", the Fall bike ride, and a Spring bike ride which includes a festival. Core volunteers with Bike Ypsi split event organization among each other. Georgina Hickey, along with her daughter Emma, were the lead organizers for the Fall Bike Ypsi event.
Organizers had been expecting about 75 people, granted the weather cooperated. Actual numbers were significantly higher, with about 75 people who turned out for the main course alone. Hickey attributes the large amount of participation to the community of bikers that has been growing over the past seven years and the weather.
"Our goal is to build a little community while we push the pedals," said Hickey