ANN ARBOR: Bookbound open mic event focuses on poetry and community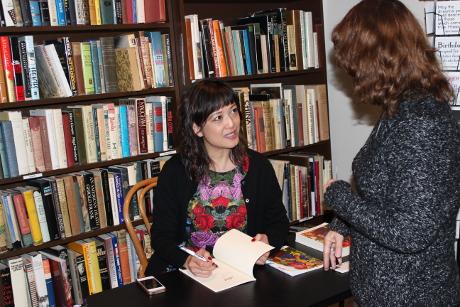 By Leslie McGraw
For Heritage Media, Nov. 26, 2013
ANN ARBOR — Bookbound bookstore held its first Open Mic poetry event on Nov. 14 showcasing the talent of six local poets and Angela Narciso Torres, the winner of the 2013 Willow Books Literature Award for Poetry.
This is the first of, what Bookbound owners Peter and Megan Blackshear, hope to be a monthly event for different sections of the poetry community including new and aspiring poets, enthusiasts who want to share from a work and published, emerging authors.
It was the first time inside of the new independent bookstore for many. Dave Wanty, of Ypsilanti, came to the bookstore to read some of his poetry during the open mic portion.
"I love to write. When I was working, I didn't have a lot of time for longer fiction, so I would write poetry," said Wanty, who retired from the state of Michigan after 35 years in mental health.
Wanty also came out to support Bookbound and Willow Books, the Detroit press that published "Blood Orange" by Angela Narciso Torres.
"The competition Willow Books did is really good for writing and writers," said Wanty.
Michelle Regalado Deatrick, who teaches poetry workshops for the University of Michigan's Lifelong Learning Institute, shared original poetry during the open mic section, as did one of the students in her class, Lakshmi Narayanan.
"This is a very nice space," said Narayanan about Bookbound, "I like the way things are displayed, the bargain books, the children's space."
The new independent bookstore opened its doors at the end of August and has been starting to add regular events to its calendar, including a Tuesday evening and Thursday mid-morning story time.
"Bookstores function as a community space by default," said Peter Blackshear, "we are excited to have Angela here."
Torres' book of poems, "Blood Orange," is part poetic memoir, tracing her development from her youth in Manila to her adulthood in America.
"Ultimately, the book is as much about a woman's development across two continents, as it is about the growth of a poet whose responsibility is to see, to record, to bear witness, and to make," said Torres.
After reading selections from her book, Torres shared a couple of new poems inspired by the recent losses suffered in the Philippines at the hand of Typhoon Haiyan.
The Bookbound Open Mic and Share poetry nights will occur every second Thursday. The next open mic is scheduled for 6 p.m. Dec. 12. Bookbound is located at 1729 Plymouth Road in Ann Arbor.
If you would like to participate in December's reading, email [email protected].