Summer Beer Festival returns to Ypsilanti this weekend
Washtenaw Now
news
Friday, July 25, 2014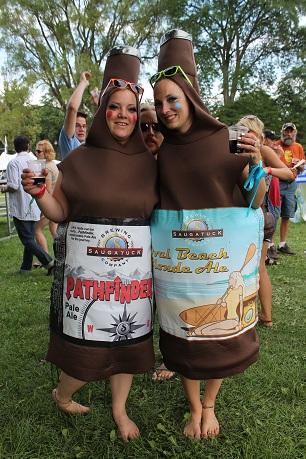 By Leslie McGraw
Special to the Ypsilanti Courier
YPSILANTI — The Michigan Brewers Guild and beer enthusiasts alike are preparing for the 17th Annual Summer Beer Festival at Riverside Park in Ypsilanti's Historic Depot Town this Friday, July 25 from 5 p.m. to 9 p.m. and Saturday, July 26 from 1 p.m. to 6 p.m.
Each ticket holder receives 15 coins which can be traded in for 3 ounce samples of one of the 812 craft beers representing 88 breweries. Featured breweries include breweries from all across Michigan as well as local favorites like Jolly Pumpkin, Biercamp, Grizzly Peak Brewing Company, Wolverine State Brewing Company, and Arbor Brewing Company, beerpub and microbrewery.
Beer enthusiasts will have their choice of vintage brews, local favorites, and new varieties. In addition, there will be food available for purchase and live music from Michigan Bands.
[RELATED: Beer fans flock to Michigan Brewers Guild's 16th Annual Summer Beer Festival (w/ photos)]
On Friday, Four Block Empire, Dragon Wagon, DJ Lewis, and Abigail Stauffer Trio will take the stage and on Saturday, July 26, The Reefermen, Sponge, and DJ Danny Boy will rock the Entertainment Stage.
Locally, there are hundreds of people who belong to home brewing groups and many more throughout the state. The Summer Beer Festival is the oldest of four beer festivals that the Michigan Brewers Guild hosts annually.
To ensure safety of all guests, the program schedule included special tickets to the festival for Designated Drivers and a list of local cab companies and numbers for quick access.
There are still tickets available for Friday evening on the Michigan Brewers Guild website for $35. Saturday's event, which was $40 per person, was sold out early in the week.