Become an election worker in Michigan!
Many communities in Michigan still have a high need for more poll workers, who affiliate as either Republican or Democrat to help ensure balanced staffing, to work the November Election. Can you help?
If you think you might like to sign-up you must first watch the 5 min Election Worker Intro video to learn about the responsibilities of working as election inspector in Michigan, and about the eligibility requirements for serving. Then select the "Next" button to complete your sign-up form. (If you have already signed up through Democracy MVP, you do not need to sign up again.)
You can also apply in-person at any local clerk's office in Michigan, not just your own. Locate a local clerk by county HERE.
Once you've applied please wait for a local clerk to contact you. In order to serve as an election inspector in Michigan, you must be officially hired and trained by an election clerk's office. If you have questions about your application status, rate of pay, training schedule, or placement please contact the election clerk's office where you applied.
In the meantime, right click on one of the graphics below to share with your networks on social media!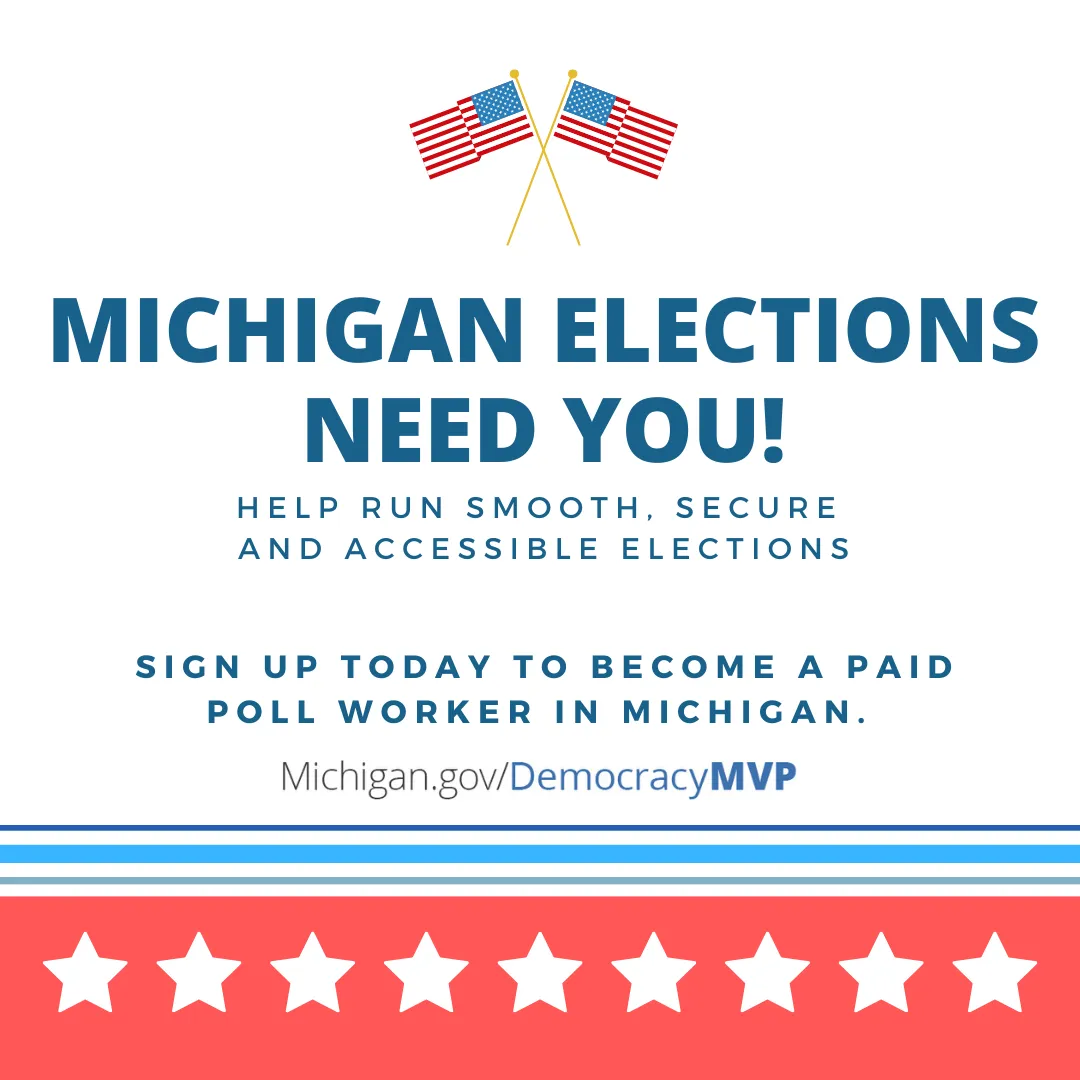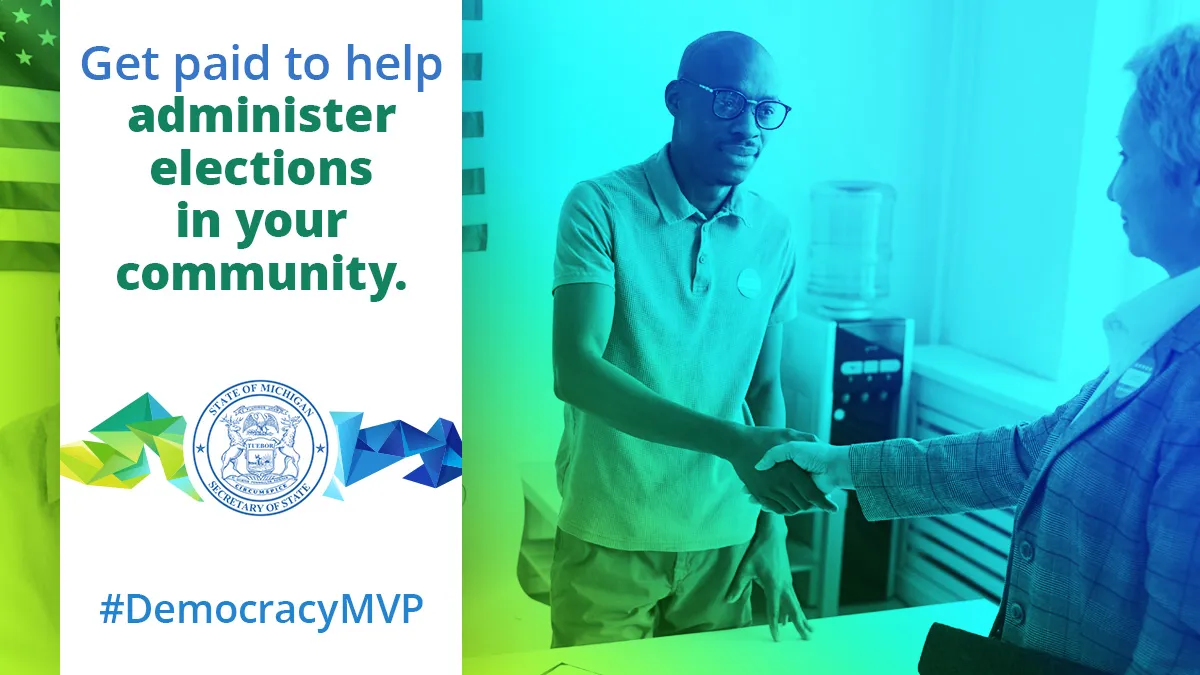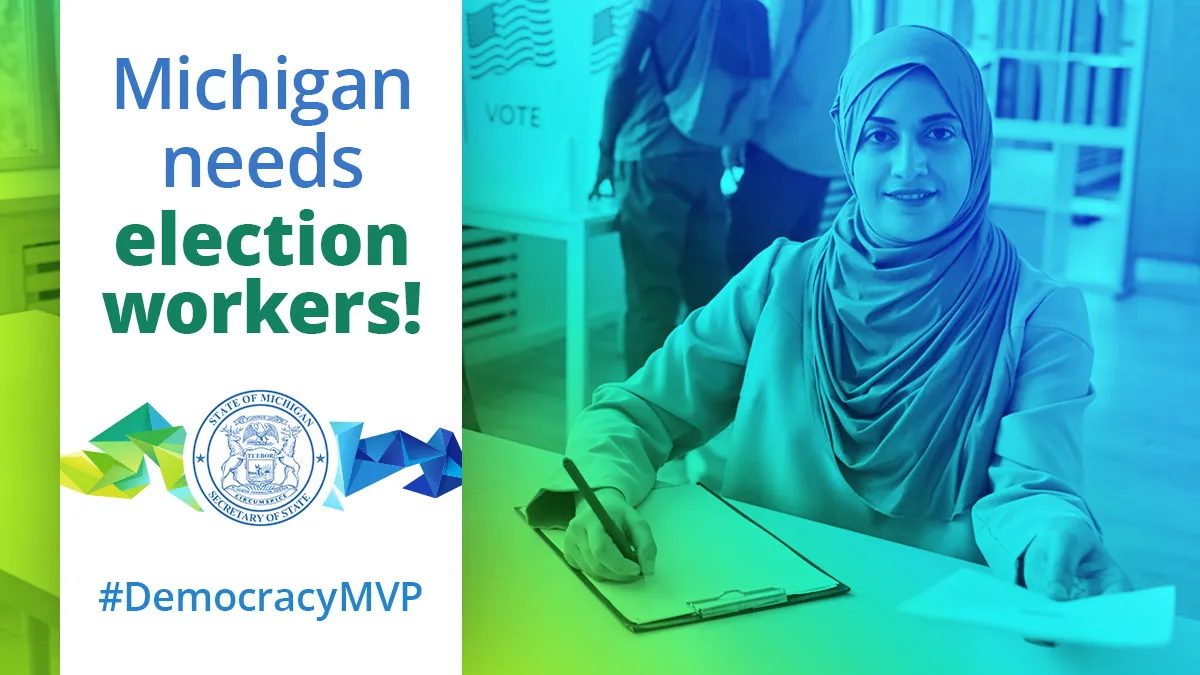 If you really want to be on the front lines, consider being an election challenger!
Volunteer or Work with a Group
Support  Nextgen with their Michigan Ground Game to GOTV
There are new event every week registering voters. Learn more and Sign up to get involved here.
Wednesdays. Tabling Event at EMU Lobby. Eastern Michigan University Student Center, 900 Oakwood St. Ypsilanti. Sign up here. 2–4 pm ET
Wednesdays. Register Students to VOTE at WSU Farmer's Market. Wayne State University. Woodward Avenue & West Warren Avenue Park. Detroit, 48201. Sign up here. 10 am
Wednesdays. Weekly Tabling Event at MSU. Michigan State University International Center. 427 N. Shaw Ln, East Lansing, 48824. Sign up here. 11 am – 2 pm
Voters Not Politicians
Particularly crucial is Proposition 2, a ballot proposal also known as Promote the Vote, which provides safeguards to the electoral process. It will put significant voting rights directly into the Michigan Constitution, thereby enhancing the integrity of our elections and protecting the vote of every eligible Michigan voter.
We must promote Proposition 2 by canvassing at every opportunity. Promote the Vote is in desperate need of more volunteers. If you are interested in contributing to this effort, please go to votersnotpoliticians.com/volunteer. Remember, those who wish to suppress the vote haven't lost time, going on the street and airwaves with outright lies. We must counteract their duplicity.
One Campaign For Michigan
Another avenue for volunteerism is through the ONE Campaign for Michigan. On their website, you can sign up to talk to voters both about the two vital propositions (Promote the Vote and Reproductive Rights) and a wonderful slate of Democratic candidates, most notably, of course, Governor Whitmer and Lieutenant Governor Gilchrist, both running for reelection.
If you sign up to campaign and you're nervous about calling strangers, never fear. You'll receive training on phone-banking with an expert over Zoom.
DemCast.Com
If you wish to volunteer in the safety of your own home, you can do so through the website, DemCast.com. Describing themselves as a "digital movement," they and their army of volunteers are dedicated to opposing the GOP's network of lies on social media. DemCast uses Twitter, Facebook and Instagram to message the truth. You can join this effort by going to their website.