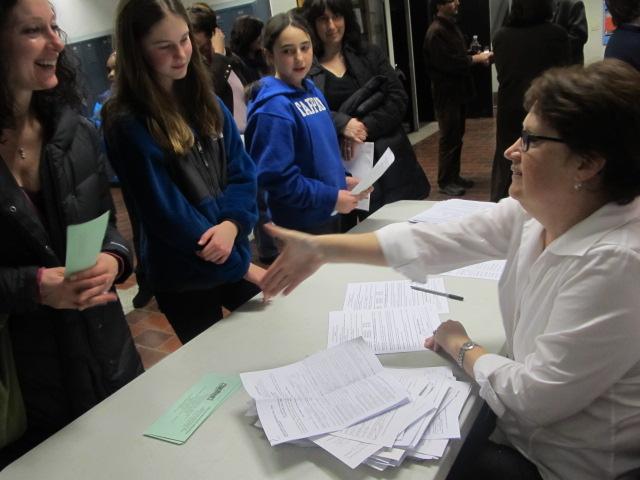 By James David Dickson and Leslie McGraw, A2 Journal, Heritage News, Feb. 4, 2012
jdickson@heritage.com
Twitter: @JDK12Reporter
LesGo4It@gmail.com
Twitter: @LesGo4It
Congratulations, Dean Jennifer Hein tells students as they hand in their applications. You are now in the lottery to enter Community High School.
In handing in their applications Thursday night, the eighth grade students and their parents had completed the second part of the admissions process for the perennially in-demand alternative high school. They'd taken the first step earlier that night, as they attended an orientation session mean to acquaint them with the school's offerings.
"We're not here to recruit you," John Boshoven, a counselor, told the capacity crowd. More than 200 people, between prospective students and their parents, had packed into the school's Craft Theater to hear from the school's teachers and students what, exactly, sets it apart and why they might want to apply.
"We're not here to tell you about how we're good and other schools are bad," Boshoven added.
Quite the opposite. Indeed, a good deal of Boshoven's presentation was spent dispelling old myths about the school.
Despite 40 years in the Ann Arbor Public Schools system, despite the success of its students, the uniqueness of its course offerings, its emphasis on autonomy (no bell times) and equality (students call teachers by their first names), despite the high demand that makes a lottery necessary to fill 100-plus seats each year, the alternative high school is still a little too alternative for some peoples' tastes.
During one session for prospective students, an eighth grader returned her Community High brochure to a school counselor. She wouldn't be allowed to apply, the student explained, because her mother did not view Community as real school.
Community is one of three alternative high schools in the Ann Arbor Public Schools system. Each school seems to face a stigma associated with that word, even though alternative means two radically different things, depending on which of the three is being discussed. At its most basic, though, Community is perceived as the good alternative, and the others, Ann Arbor Technological and Clemente, are perceived as bad alternatives to the three traditional high schools, Pioneer, Huron and Skyline.
So heavy was the weight of the Stone School/Stoner school stigma that the school community voted last year to change its name to Ann Arbor Technological High School, a change the school board approved. Clemente, which takes in students looking to recover lost credits and get back to the mainstream, is regarded in some circles as a small school whose cost outweighs its benefits.
Community High, meanwhile, has managed to weather the Commie High stigma from its early years, though to some townies who've been here long enough to remember the name, it will always be Commie High. These days, said physical education teacher Robbie Stapleton, the school also faces a smart kid stigma that makes some students hesitant to apply.
Ariana Saam, an 8th grader at Clague Middle School, told the Journal she would like to attend Community, but her parents are still undecided, even though they do feel the smaller environment could be good for her.
13-year-old Persephone Gloeckner feels that she would fit in due to her current school, Ann Arbor Open. I am already used to an alternate way, calling my teachers by their first name, everyone being accepting.
After the general orientation, students and parents visited with teachers representing the school's course offerings, from mathematics to world languages to the Community Resources program, which allows students to take coursework with experts in the community. These classes range from Arabic to Mixed Martial Arts to Zoology.
Community does not offer advanced placement courses, which is a turn-off to some parents, Stapleton said. (Students need not take AP classes to take AP exams and earn college credit, Boshoven explained.)
If you want to take a college class, go take one at U-M, said Craig Levin, a math teacher. Don't take the pretend version.
Community also has odd demographics for a school in Ann Arbor; actually, all three of the alternative high schools, in addition to the magnet K-8 Ann Arbor Open, do, as blacks are over-represented at A2 Tech and Clemente while white students make up 75 percent of the student bodies at both Open and Community, the "good" alternative schools.
In the 1960s, the Ann Arbor Board of Education shut down Jones Elementary, which occupied the same building Community does now, because it was 80 percent black, and bussed its students to other schools in the name of racial balance. Less than 50 years later the demographics of that same school building have almost completely flipped.
Stapleton said that the school's demographics are a topic of conversation among the faculty. Stapleton said Community has worked with local churches to encourage a greater number of minority applicants.
As a public, magnet school with greater demand for seats than supply, Community can't offer any sort of racial preference in admissions. Seats are filled by a lottery. The only way to get the school's demographics to better reflect those of the larger community is to get more minority applicants. But only a trickling came out for Thursday's orientation. Even then, there is no guarantee that those who came will apply, that if they apply they'd get in, or that if admitted they'd enroll.
Last year, the school received about 400 applications. Completed applications place students into a double-blind lottery system in which a name and number are pulled from containers at the same time. The names that correspond with number 1 through 114 on Tuesday, February 14 will be invited to be Community High freshmen in the Fall. Other applicants are put on a waiting list by the lottery number they received and keep that same number throughout their high school career. This year 8 students who did not make the lottery as freshman were invited as sophomores.
The process is in place, says Hein. We have done it this way for the last 11 years.
The fifth and final orientation for parents and prospective students will be held at Community High (401 N. Division) on Thursday, Feb. 9 from 7 to 8:30 p.m. All applications must be in by 4 p.m. on Friday, February 10, 2012. The results of the lottery will be posted at the school on Tuesday, Feb. 14 at 3 p.m.