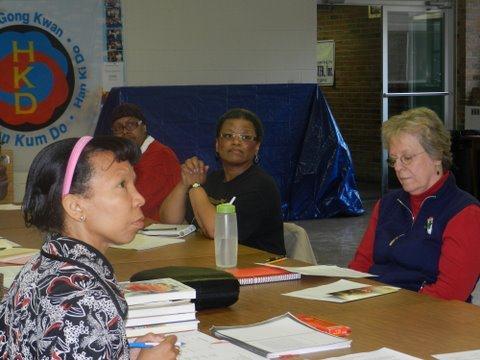 By Leslie McGraw, A2 Journal, Heritage News, Feb. 5, 2012
LesGo4It@gmail.com
Twitter: @LesGo4It
I hope you keep this up.
Those are the six little words Karen Simpson had always dreamed of saying as a teacher. On a recent Saturday, her wish came true. Simpson, along with Debbie Taylor, completed a four-week Creative Writing Workshop series at the Ann Arbor Community Center (628 N. Main Street).
Students had to set goals for the overall workshop series as well as personal writing goals. The class, using Anne Lamott's book "Bird by Bird" as a study guide, taught students how to make a regular practice of writing as well as how to participate in critique groups.
It's just putting it down on the paper, word by word, paragraph by paragraph, Simpson said. Several students said that this was the first time they had ever sustained regular writing activity for four weeks straight.
It is critical for members of the writing community to encourage one another and the sessions allow me to do that, said Taylor. In her professional writing life, Taylor is both a writer and presenter.
Both teachers are award-winning authors in addition to their primary profession.
Taylor is the author of children's book "Sweet Music in Harlem." Simpson wrote the recently acclaimed young adult novel "Act of Grace." With demanding careers in engineering and finance, these part-time authors know the value of sitting down and getting words on a page on a regular basis.
The creative writing class was the debut class for All Things Artistic Ministries, Inc. (ATAMI). ATAMI is a faith-based organization that focuses on developing artistic skills. The classes are open to everyone but all have a spiritual component.
Our desire is to help people see the connection between works of art and their spiritual relationships. Debby Mitchell, founder of ATAMI, says that more classes will be launched by the fall.